The 2018 Fall Meeting will be held at the beautiful Hilton Sandestin Beach Golf Resort & Spa located in Miramar Beach, Florida.  Mark your calendars to attend the Fall Meeting - Sunday, October 21 through October 23, 2018. 
The beach at Hilton Sandestin Beach Golf Resort & Spa is part of a stretch of coastline in South Walton that is considered one of the world's most beautiful. For one, the sand is nearly pure quartz crystal, the result of the wearing down of the Appalachian Mountains over time. Almost blindingly white, it is soft, fluffy and looks like sugar.
The Gulf of Mexico here boasts some of the country's clearest water. Its crystal clarity allows sunlight to penetrate, and when the light reflects off the sand at the bottom, the effect is water that is a gorgeous, emerald-green color. Also, the water is calm and warm, which makes our resort particularly popular with families. As does the fact that our sand is known to make wonderful castles and sand sculptures.
Hilton Sandestin Beach is the largest full-service beachfront resort on Northwest Florida's Gulf Coast, which puts us in a class above our competitors.
Distances ( in miles ) from the Hilton Sandestin Beach Resort to regional airports in the panhandle of Northwest Florida.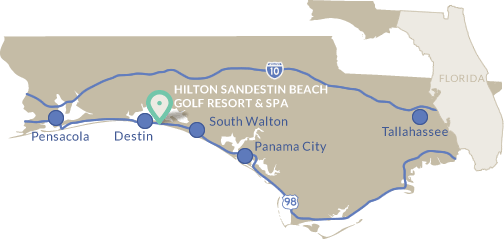 PNS Pensacola International Airport Continental, Delta Airlines, American Airlines, United, U.S. Airways, AirTran (service to/from: Houston, Atlanta, Dallas/Ft. Worth, Memphis, Miami, Orlando, Tampa, Washington/Dulles, Washington/ Reagan) • 64 miles
VPS Destin — Ft Walton Beach Airport Delta Airlines, U.S. Airways, United Airlines, American Airlines (service to/from: Dallas, Houston, Atlanta, Charlotte, Washington DC) • 26 miles
ECP Northwest Florida Beaches International Airport, Panama City Delta Airlines, Silver Airways, Southwest Airlines, United Airlines (service to/from: Atlanta, Orlando, Tampa, Baltimore/Washington, Houston, Nashville, St. Louis, Houston) • 42 miles
Airlines SERVING DESTIN, FLORIDA BEACHES
Serving the Hilton Sandestin Beach, Destin beach resorts, and the region surrounding the Northwest Florida panhandle with daily non-stop flights.